FC Barcelona have signed Brazilian star Philippe Coutinho from Liverpool for £142m.
Coutinho has signed a 5-year deal with the Catalan giants as he became the second-most expensive football player to date with a fee only topped by his fellow Brazilian Neymar who was sold by Coutinho's current club.
Coutinho underwent and passed his medical, despite being injured and has been officially unveiled by Barcelona.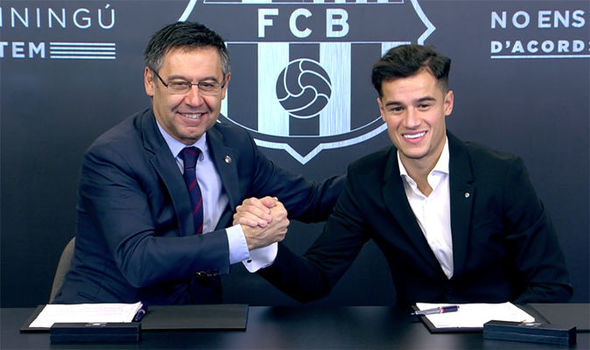 Speaking to Barcelona TV, Coutinho said the following:
"I'm very happy, very happy," Coutinho, who watched Barcelona's 3-0 league victory over Levante on Sunday at the Nou Camp, told Barca TV.
"I have always said that it is a dream that I am living and I am very happy to be here.
"To be able to play, win titles, make the fans happy… always play with joy. It is incredible to know that I am going to live with idols, players with a lot of history.
"Footballers like Leo Messi, Luis Suarez, (Andres) Iniesta, (Gerard) Pique, (Sergio) Busquets. I am very happy to be able to live together, to be able to learn from them and be able to win together."
Coutinho's dream of playing for Barcelona was finally achieved after a series of failed bids but his desire to join the Catalan club played an important role in allowing the deal to go through.
Josep Maria Bartomeu had this to comment on the transfer:
"We've been working for months on this,"
"But one of the important aspects was that he [Coutinho] wanted to come here. He made an effort, he was patient and that was a determining factor in bringing him here.
"Everybody knows him as a player, we know about his professional career, but what I can say is that it wasn't easy to bring him here. He wanted to be here and he's part of this new project with [Ernesto] Valverde.
"I want to thank Liverpool, one of Europe's biggest clubs, for allowing him to leave."